Hello,
So i have a idea, post your hub record of uptime.
And some specs of your machine.
My littel server :
Intel Nuc
CPU: Intel J3455, running at 2.17 ( performance mode)
Ram: 16 GB, DDR3, 2X8GB
Disk : 240 Kingstone SSD(os), 1 tb hdd west, and 12 tb
Internet: 1GB download / 1GB upload link
OS : Windows 10 , disable updates.

Hub:
Software : Ynhub 1.0.363.723 , with xampp(mysql) for nick&ip log.
Uptime record : today, 60 days ,18 hours ,28 minuts
About the hub: so this hub was open back in
2004
, i was hosting the hub, some of my friends too, and from 2007 to 2011 we are dedicat hub server. In 2011 the hub was close , the admin's we don't have time, so in 2020 May i get the Nuc and the hub is on since then.
Initialy my server was for personal use, like ftp, ratio, plex.. and i think why not open the hub again?.. so i open it, yes of course low users, but is on since 2020 may , and hope to stil running for a long time, about the uptime, the electricity here is kill me the uptime record.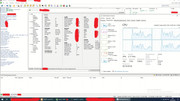 My Uptime